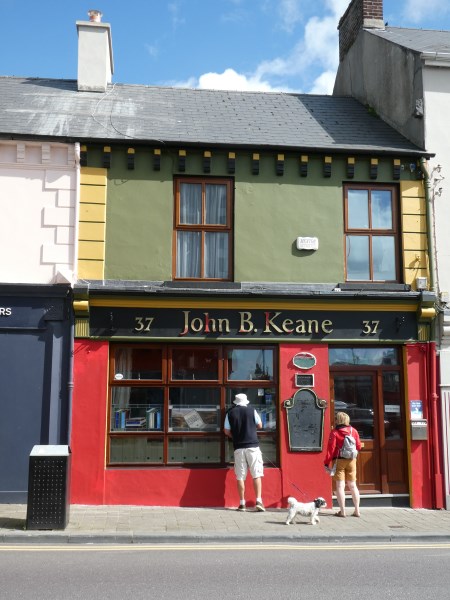 John B. Keane Pub looking good in September 2020. It's great to see the door open again.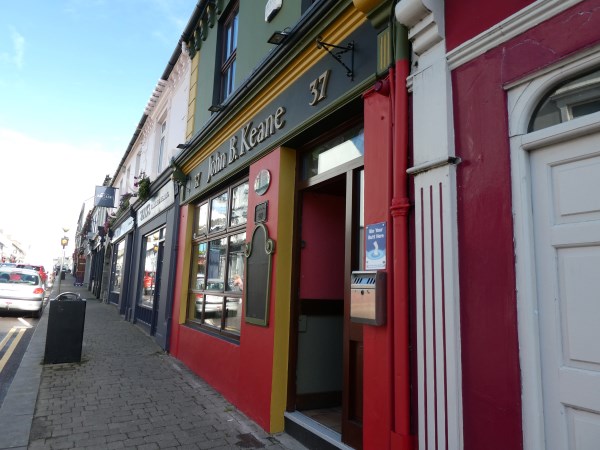 <<<<<<<<
Listowel People and A Strange Listowel Custom?
There are certain aspects of Listowel culture that never cease to fascinate me.
I realised shortly after first moving to town that Listowel people marched to the beat of a different drummer.
The rhythm of life here is different, the whole year built around the annual Harvest Festival of Racing.
When I came to live in Listowel in the 1970s, race week was a major holiday. Schools closed, shops and banks worked half days. It seemed to me that the whole town decamped to the Island every afternoon.
I soon realised that there were other local idiosyncrasies particular to this town.
Have you ever tasted Ciderina?
Are you overcome with a wave of nostalgia when you hearno knee, high knee, no julk, follow on there longs?
Listowel had its characters and well loved local individuals as remembered a while back on Facebook
Liz Chute shared this Church Street memory

Church Street was a wonderful Street filled with interesting people . Over thirty years ago Mr Lawlee got a heart attack and was obviously in hospital . A few days later my own wonderful mother had a heart attack herself and believe it or not within a few days Michael Quille had one . These houses were within 500 yards of each other . One evening whilst all three were in hospital a client of Allos hopped the ball that he had better watch out but Allo quick as ever responded " not at all lads ' tis going in the other direction !!

And from Maurice O'Sullivan

I agree with Liz. Church St. was a wonderous place to grow up with so many characters or oddballs. Molly Flaherty shared Hannah Keane's interest in leaving cert results or "d'onours". Hannah had a massive opposition in the McMahons across the road. It didn't matter that she had such successful children Eamon and John B. d'onours were still paramount. I suppose never in history had so many characters lived in such close proximity. Moll Troy, Dillon (who hated dogs) Lina Mullally, Ginny with the lame step, Nora O' Grady, Short Pants the harness maker, John Joe Dillon, captain Shanahan, Mickey and Delia Kearney, Ina Collins. This is only a fraction.
If you remember these people and this language that the strangers do not know then maybe you will remember Scelligging.
Maurice O'Sullivan brought it up on Facebook. I asked Cyril Kelly about it and here is his reply.
Unfortunately Scelligging pre-dated the MeToo era. Where do you think that Boko Harum in Nigeria got their ideas? Why from Holy Ghost Fathers of course. North Kerry men wanted to introduce pre Lenten customs in a guise that would appeal to the natives. Ala Fr. Jack in Dancing at Lughnasa.
I'm attaching an essay broadcast some time ago on Sunday Miscellany with regard to that gallant Listowel custom, Scallige Night. And sure, if it was on the wireless, it must be true.
SCALLIGE NIGHT Cyril Kelly
I'm sure that what finished up being called Scallige Night in North Kerry actually began life as Óiche na Sceillige in Corca Dhuibhne. But when a word or phrase gets restless and decides to migrate from the parish where it was spawned and reared ó glún go glún, it faces discolourations and distortions, even the deliberate misrepresentations caused by the use of the tally stick. The tally stick was tied about children's necks to register the number of Irish words spoken and for which they would be duly flogged at the end of the school day. At any rate, I'm sure that by the time Óiche na Sceillige had crossed a few ditches, braved vertigo on Connor Pass, skirted Gleann na nGealt, crossed the bridge at Blennerville and left Corca Dhuibhne behind, it had undergone some semantic slurs, some etymological refinements, and by the time it reached Listowel, it was going about its business under the assumed name of Scallige Night.
Óiche na Sceillige was a custom that took place in Corca Dhuibne on the night of Shrove Tuesday. Spirited young lads, under the cloak of darkness, would run around banging loudly on the doors of local bachelors and spinsters, warning them that, in case they had any notion of getting married, time had not run out. The monks on Sceillig Mhichíl followed a different calendar, one that lagged about two weeks behind the Gregorian calendar which was used on the mainland. So, as of Shrove Tuesday, any bachelor and spinster who had been surreptitiously eyeing each other up and calculating pecuniary plus land prospects, once they had the dowry sorted and she had given her consent to be buried with his people and had, in turn, received assurance that she would reign as bean a' tí as soon as the old woman passed on, once all of these delicate protocols had been hammered out and spat upon, the happy couple still had two weeks grace when they could hop into a naomhóg, row the nine miles of spring tides and get hitched on Sceillig Mhichíl.
In Listowel, on the night of Shrove Tuesday, the Skallige Night custom consisted of young lads, maybe ten or eleven years old, getting lengths of rope and chasing young girls around the streets, twining the rope around any who were caught. On this particular Shrove Tuesday night, a group of us altar boys was crossing The Square on our way home having served at benediction. The choir girls were ahead of us, chatting and giggling to their hearts' content, apparently oblivious to our presence. Don't ask me which one of us angelic spirits thought of the notion, but suddenly we were all crouching behind the wall of the Protestant Church, struggling into black soutans to enjoy our version of Scallige Night. Girls being girls, they had eyes in the backs of their heads and no sooner had we begun to give chase than they set up an unmerciful cacophony of screeches which was most un-choirgirl-like and began to run like hell. Up through The Small Square, into Church Street, with us in hot pursuit. Amazingly, well amazingly at the time, but maybe not so in the hard earned male wisdom of retrospect, they turned into Bunyan's back-way, their screams magnified by the archway.
At the top of the lane they swerved left, racing in the pitch darkness behind the houses on Church St. heading for the exiting arch at The Bon Tons. I was in the leading group of chasers, gaining on the girls all the time. Until, behind Pat Kenny's butcher shop, I ran slap-slurry-bang into a mound of cow dung. There is nothing like the odour of ordure to cool your ardour.
Slinking in our halldoor, I hung the altar bag, containing the stinking soutane, in its usual place on the coat rack in the hall. Apart from a remark that I was a little later than usual, there was no other comment passed that night. My father was a smoker, so his sense of smell wasn't great but my mother was blessed with a twitchy nose that would have made a bloodhound jealous. Not alone had she finely calibrated olfactory faculties, she could get the scent of a lie at forty paces. So next morning, under maternal inquisition, I squirmed and procrastinated before eventually having to admit the truth. By the time she finished a diatribe which was Jesuitically sprinkled with the Litany of Our Lady, Morning Star, Mother most pure, Mystical Rose, I would gladly have swopped our house for seven penitential weeks in a clochán perched on a vertical cliff on Sceillig Mhichíl where I might hopefully be comforted by the sirens of the sea singing, as T. S. Eliot said, each to each and then, just when I might be in danger of getting a purpose of amendment, those singing sirens might remind me of the lovely choir girls in Listowel.
<<<<<<<<<<
Sam Bennett, Cycling Champion 2020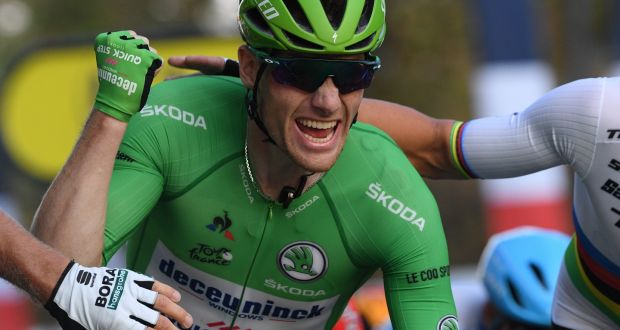 Photo from the internet
Everyone in the Irish Cycling family is so proud of our own Sam Bennett who cycled first across the finish line of the 2020 Tour de France. He was the stage winner and the overall winner of the green jersey for the top sprinter.
When The An Post Rás rolled into Listowel on May 31 2013, Sam Bennett was in the lead. My attention was elsewhere as I turned my camera on the local people who had flocked to Market Street to see the finish.
Anne and Mairead were at the door to watch the race for the finish line.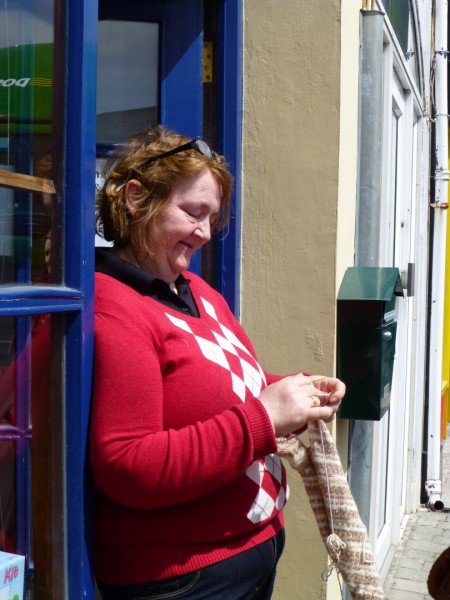 Kathy, whose hands were always busy came to the door of her shop, Kerry Krafts.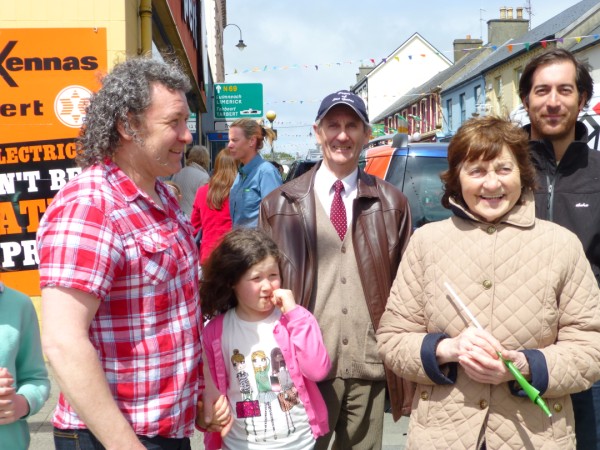 Hannons and Chutes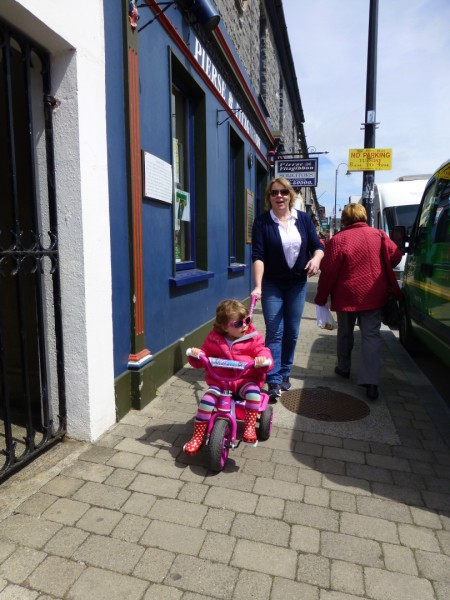 Joan and Isobel arriving on a different kind of vehicle.
P.J. and Joan were there too.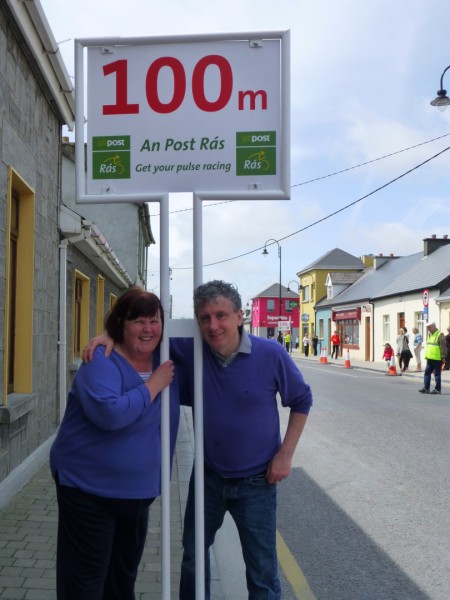 Joan and Billy took a minute to pose for the camera as whey waited for the cyclists to arrive.
<<<<<<<<<<
Painting for The Races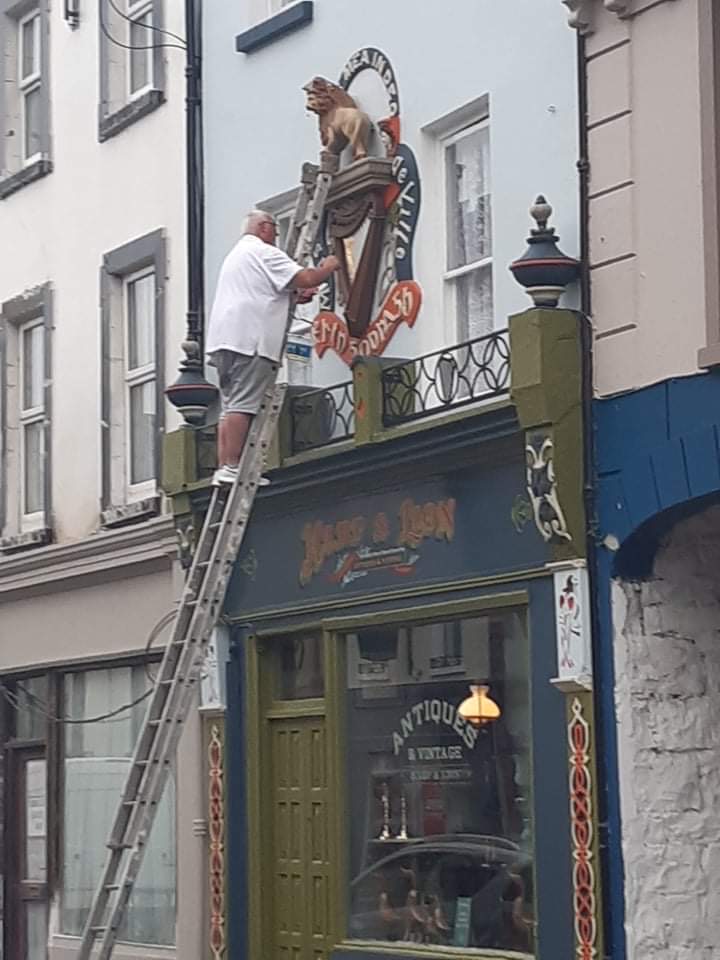 Armel White spotted Martin Chute giving a quick touch up to the iconic Pat McAuliffe stucco on the second day of Listowel Races, September 21 2020. We may not have as many visitors as usual but we are still painting and titivating and keeping our lovely town as beautiful as always.


C