It's Beginning to Look a Lot like Christmas in Listowel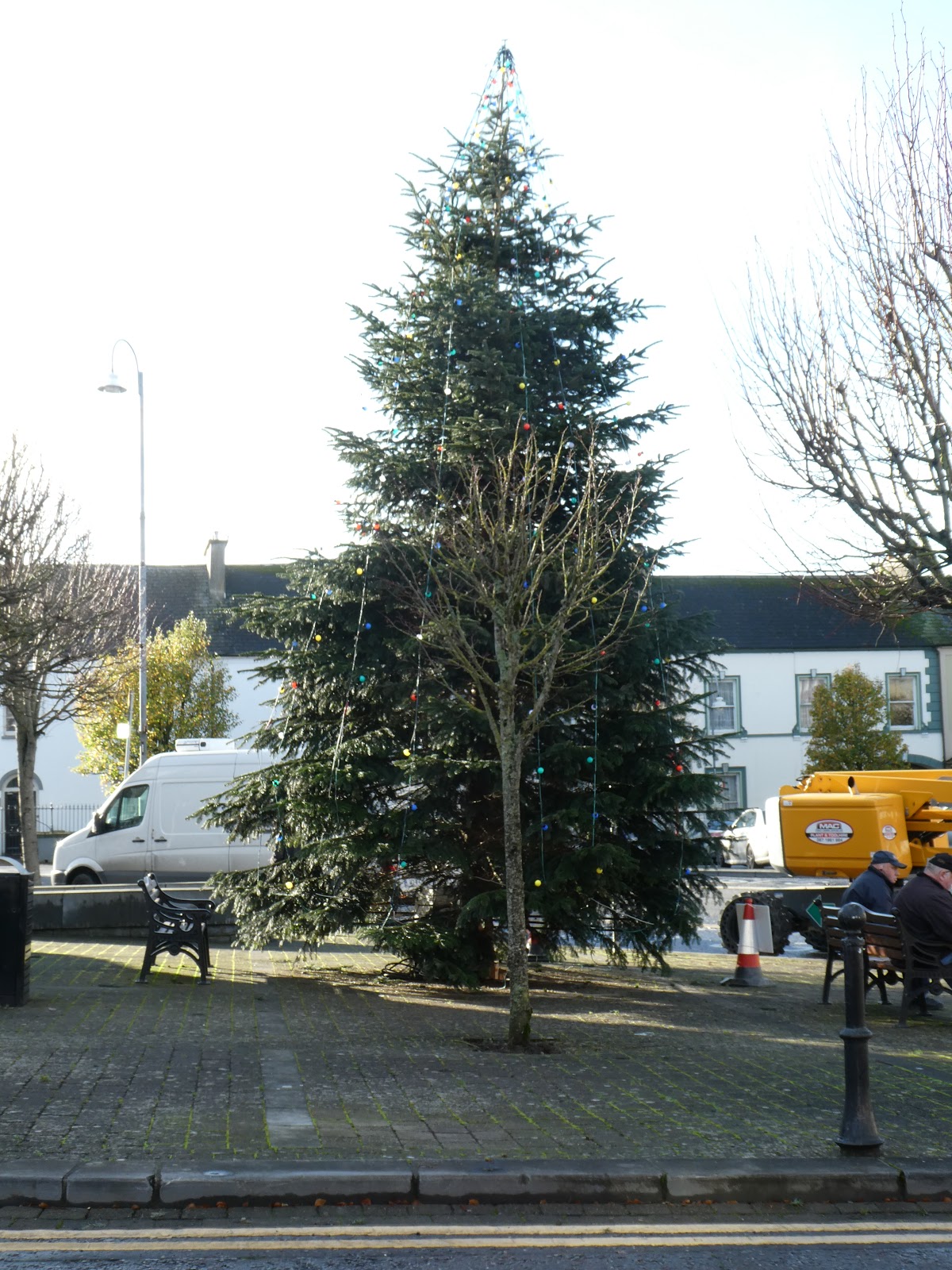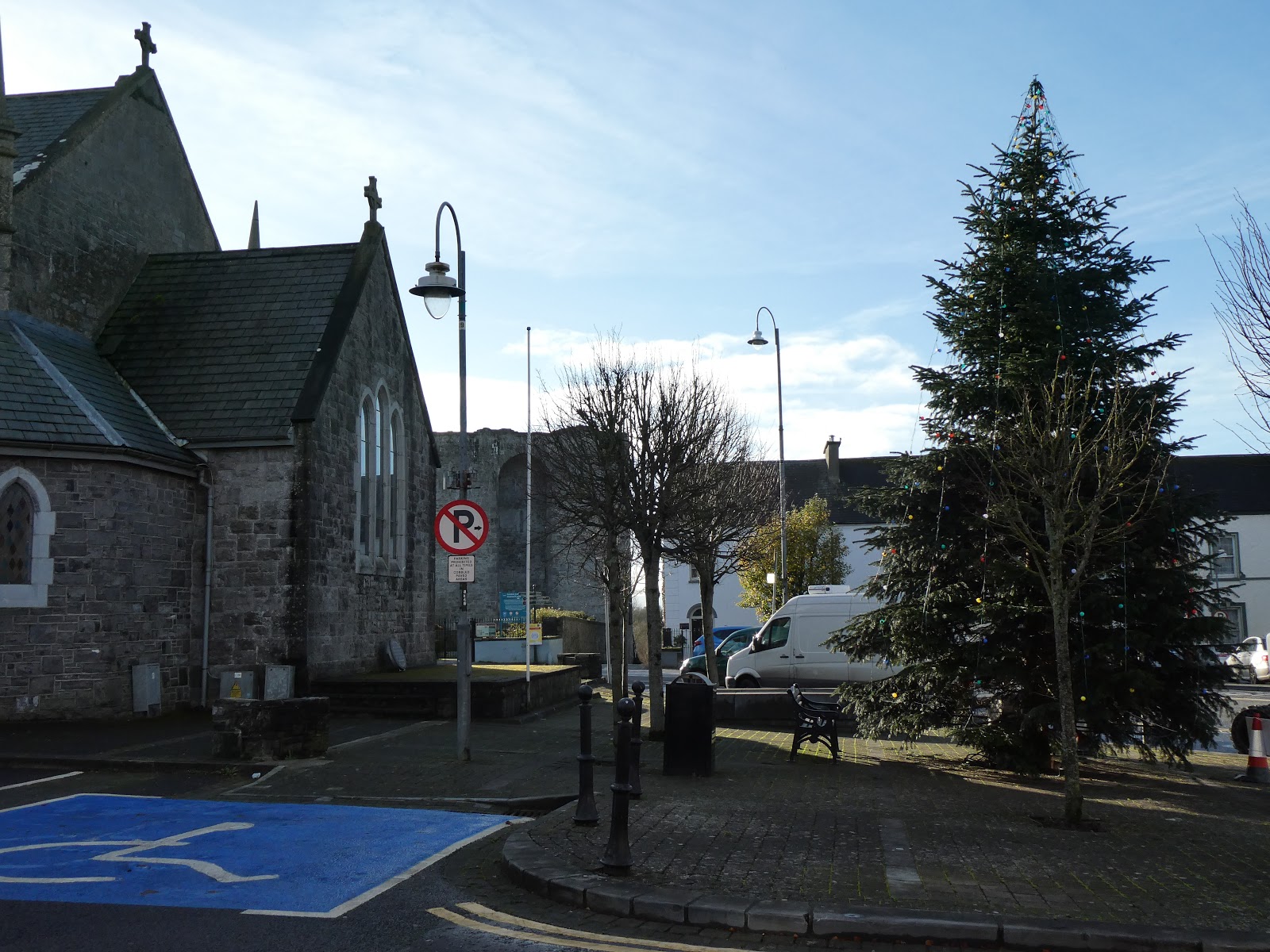 <<<<<<<<<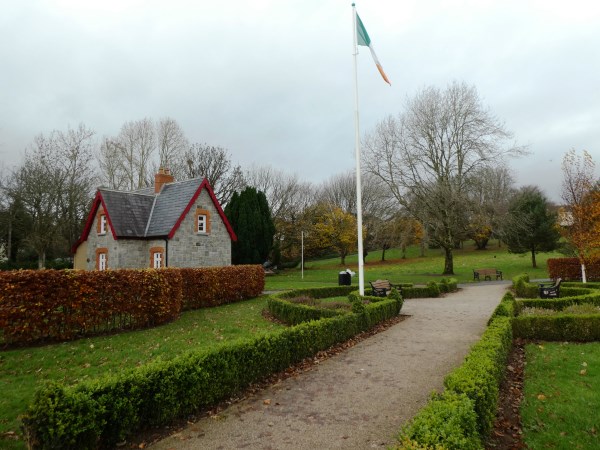 1916 Memorial Garden with Dandy Lodge in the background.
<<<<<<
From an Old Paper
New York NY Irish American Advocate
April 1917
On Wednesday at the Cathedral, Killarney. Miss Ellie Aimes Griffin the daughter of Mr. Daniel Griffin, Dingle, was married to Mr. Michael Griffin. N.T., Listowel. The ceremony was performed by the Revd. James Kennedy, first cousin of the bride, assisted by the Revd. J. Griffin, Dingle. The bride is a first cousin of the late Thomas Ashe.
<<<<<<
Where it all began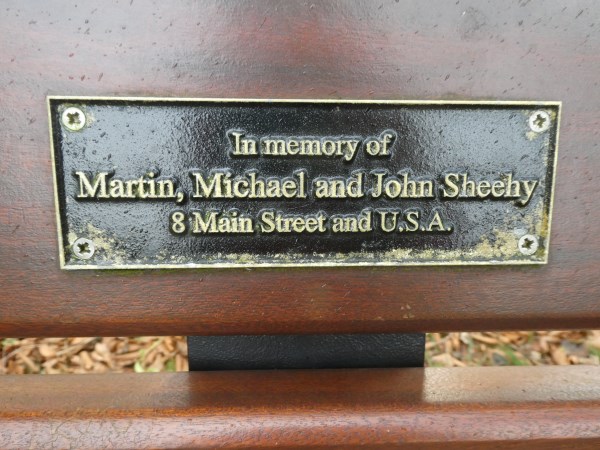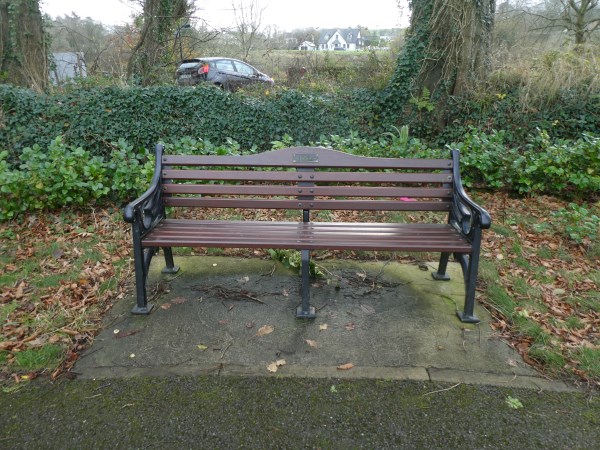 When I pass this seat in Childers Park I say a prayer for the three brothers commemorated there. Without John Sheehy there would be no Listowel Connection for it was he who first encouraged me to become a town chronicler.
It started with a Listowel forum on Boards.ie. The forum is still there. I checked. People are still posting there. It was a place to chat about all things Listowel.
I joined the forum in 2005 and there I met John Sheehy as Sandhill Road. We all had nicknames on the forum. I was Cherrytree. John and I chatted on the forum and by email off it. He encouraged me to keep posting my photographs and the Sunday parish newsletter. If I was out and about with my camera I would take a photo and post it. If I ran into John's twin brother Jerry, I had to be sure to take that one. Over time, Martin and Mike also joined the thread and in time I met them in person on some of their very frequent visits 'home'.
When I started the blog in 2011, I contributed less to Boards. (According the Boards stats I posted 339 times in all)
I was so excited about my new venture that I took to promoting it on Boards and posting a link to my latest blogpost. Big mistake! Boards forums have a moderator to enforce their rules. One of these rules is that you may not drive traffic away from the forum. I was doing this by posting a link to my blog. Consequently the moderator threw me off the thread, booted me out, suspended me indefinitely. John interceded on my behalf to no avail. You break the rules at your peril with this moderator.
Since then I've put my ignominious exit from Boards behind me. All three Sheehy brothers whom I met there have passed away Every time I pass their seat I am reminded of them and their great love for Listowel which would now be more welcoming for them than ever before. May they rest in peace.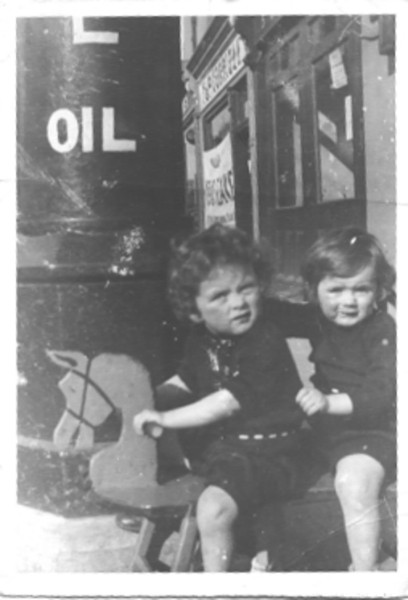 This lovely old photo is of the Sheehy twins, John and Jerry in 1952. It was taken in Main Street outside their family shop (now Morkan Jewellers)
<<<<<<<
Listowel Branch of the Irish Red Cross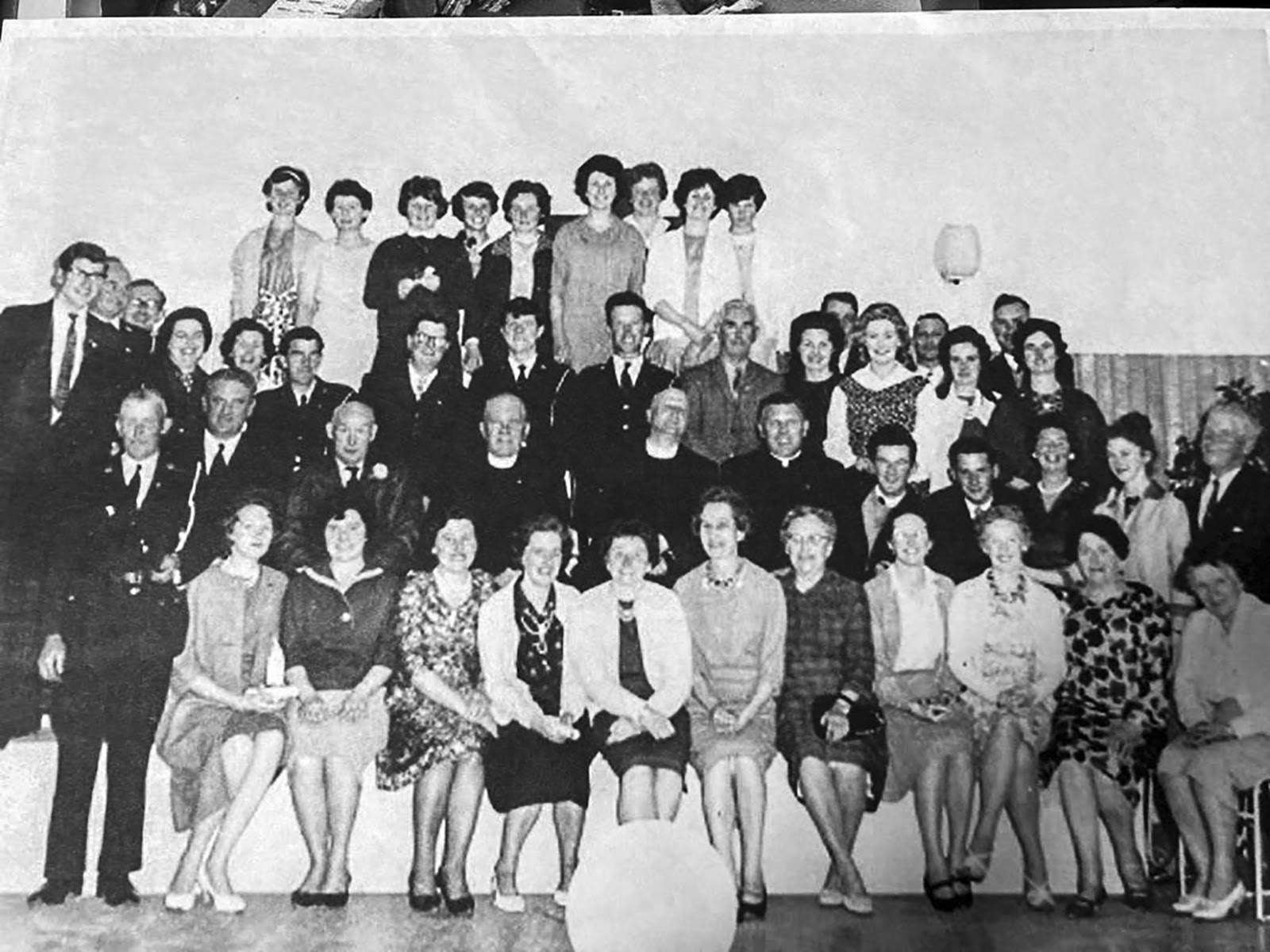 Máire MacMahon sent us this photo of a Red Cross Social in the 1940s. Máire found it among her aunt Máirín MacMahon's papers. Recently Éamon ÓMurchú brightened it for us, so the people are easier to identify.
When I printed it first in 2018 Margaret Dillon gave us some of the names


Sitting :……., Mona or Phil Duggan,…,…..Kennelly…., Maureen MacMahon, Clementine Crowley,…,…..,Kit Medell , Mai Kathleen O'Sullivan

1st. Row standing: Man in uniform? Dr. Johnny Walshe, Dr. Buckley, Canon Peter O'Sullivan, Canon Wallace, Fr. Gerard Dillon, …., …..,Helen Mc Elligott, Marie Stack Grimes, Mr. Leahy (Eamon thinks this may be Michael Relihan)

3rd. Row: Vincent Carmody,…., Hillary Nielson,….., Mrs. Walshe, …….., Christy Keogh, ……, ……., Louis Murphy,…..,……, Anne (Nash) Wixted,………,………., ………..


Back Row;…………
<<<<<<<<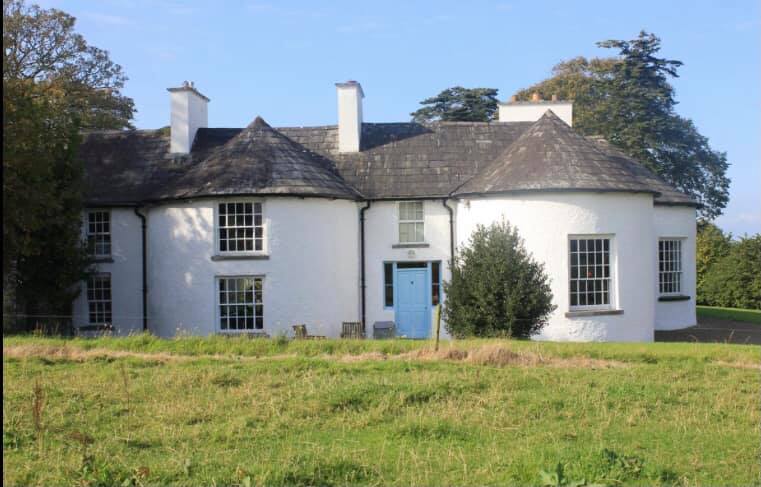 from Ciarán Sheehan on Facebook
Fort Shannon, Ballyhoolahan, Glin (on the road to Tarbert facing the Shannon). My father Charles Sheehan's home in the 40's and 50's after his mother May (Hennessy) passed on Upper William Street in Listowel in the late 40's and my uncle Maurice and aunt Lily (Hayes) Sheehan's home and farm from the 40's through the 90's. Many fond memories. I often think my career as an actor and singer began here listening to my uncle Maurice serenade his cows as he and aunt Lily milked them by hand.
The house is often featured in university architectural programs around the world.