The Cows' Lawn (By Kay Caball) continued…..
While the Hares were not in the accepted sense 'absentee landlords', the
purchase of this estate was an investment by a successful businessman, who
mainly lived elsewhere. Richard Hare and his descendants intended collecting
every last penny from the estate. They put in place land agents who would run
the estate on their behalf, in a business like matter. The Hares, later Earls
of Listowel, only used Gurtinard House and its demesne for very short periods. The Hare's main
residence was at Convamore in County Cork.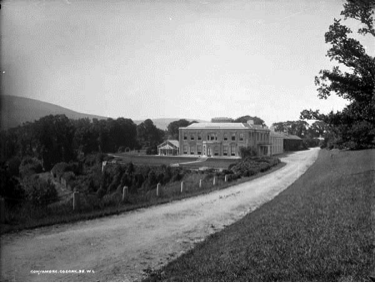 This was a magnificent residence designed by James Pain, 'standing above
the most beautiful stretch of the Blackwater'. Hare did not replicate this in
Listowel, but built a handsome Georgian house in 1815 at Gurtinard with a pleasing
demesne surrounding the house including woods and the 'two 
fields' known to the occupants of
the 'big 
house' as the 'front lawn' and the 'back 
lawn'. We can see in the 1763
map the
 suitable location later selected for, this
house and demesne, in its proximity
to the 
town . As well as occupying the most imposing site available it was
also a convenient location for the agent from which to conduct his estate
business and collect his rents.
Over the years there is evidence that the current Lord and Lady Listowel
would stay there only for short holiday periods. Bertha Beatty, who was a guest there in the late nineteenth and early twentieth century
tells us that their stays there were during 'the season' when they entertained
the local 'county' families. During this time the 'two lawns' were pleasure
grounds, including a tennis court. The lawns, which were fenced in were divided
in two by a grove of trees with a steam running though, giving an uninterrupted
view from the house to the River Feale in the distance.
Joseph O'Connor tells us that in 1895 his Grandfather's house in Church
Street:
'ended at the high wall of Lord Listowel's demesne of Gurtinard. Beyond
that wall lay forbidden territory. Woe, betide the commoner who dared climb the
stone barrier to have a peep at the Great House, when the family was in
residence during the off-season in London. Nothing less than a month in Tralee
Gaol would purge his transgressions'.
This uncompromising attitude by the Hares and their agents towards the
townspeople continued. During the harsh winter of 1916-1917 despite a plea from
the Clerk of the Listowel Union for a contribution of timber towards a
fundraising effort for the local poor, it was refused.
In February 1917, with shortages & rising food prices due to the
war, Listowel Urban Council requested the Earl of Listowel to 'make two large
fields, known as the "'the two lawns" available for cultivation for the poor people of the town'. There was an unproductive series of letters
exchanged between the Urban Council and Lord Listowel. Jack McKenna, Chairman
of the Urban Council pointed out that all they were seeking was permission to
use 'vacant' land as tillage. He stressed how important this would be in the
context of food shortages being experienced at the time due to the Great War,
that 'even in London the Royal Parks are being ploughed for tillage'. His plea
was in vain.
……………
(more tomorrow)
<<<<<<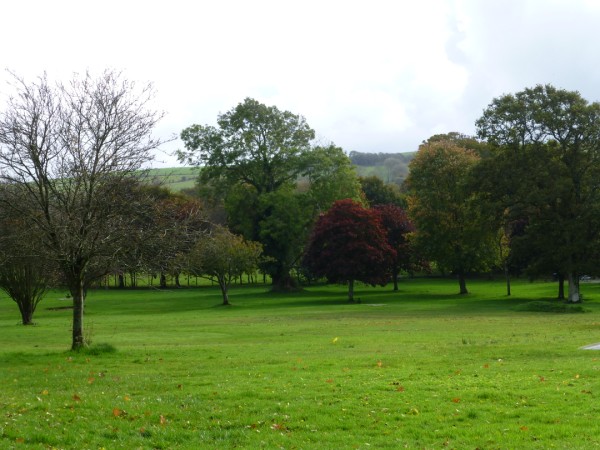 Some of the magnificent trees in The Town Park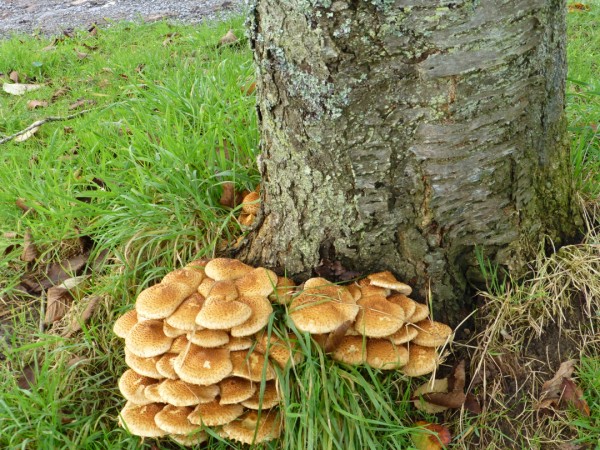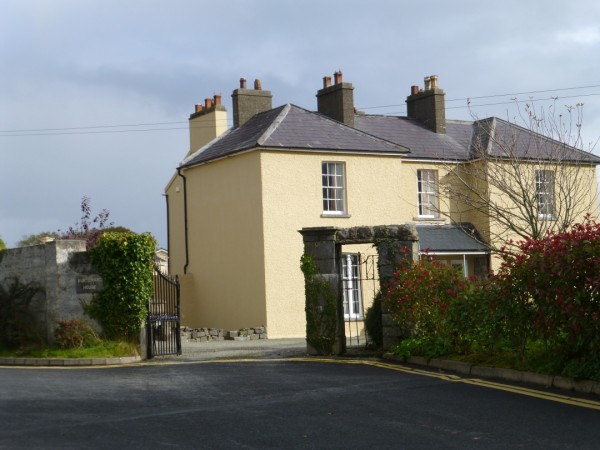 Gurtinard House today

<<<<<<<<<<
Recently I revisited a website called Letters of note.
I liked this letter. Maybe you will too.
On November 9th of 2004, Stieg Larsson — journalist and author of the posthumously published Millennium series of novels, the first of which wasThe Girl with the Dragon Tattoo — passed away after suffering a heart attack. He was 50-years-old. The next month, Stieg's long-term partner, Eva Gabrielsson, found the following letter amongst his belongings, marked "To be opened only after my death," and written prior to a trip to Africa in 1977 when he was just 22.
Eva read extracts of the letter at Stieg's funeral, the day after its discovery.
(Source: "There Are Things I Want You to Know" About Stieg Larsson and Me)
Stockholm,

February 9, 1977

Eva, my love,

It's over. One way or another, everything comes to an end. It's all over some day. That's perhaps one of the most fascinating truths we know about the entire universe. The stars die, the galaxies die, the planets die. And people die too. I've never been a believer, but the day I became interested in astronomy, I think I put aside all that was left of my fear of death. I'd realized that in comparison to the universe, a human being, a single human being, me…is infinitely small. Well, I'm not writing this letter to deliver a profound religious or philosophical lecture. I'm writing it to tell you "farewell." I was just talking to you on the phone. I can still hear the sound of your voice. I imagine you, before my eyes…a beautiful image, a lovely memory I will keep until the end. At this very moment, reading this letter, you know that I am dead.

There are things I want you to know. As I leave for Africa, I'm aware of what's waiting for me. I even have the feeling that this trip could bring about my death, but it's something that I have to experience, in spite of everything. I wasn't born to sit in an armchair. I'm not like that. Correction: I wasn't like that…I'm not going to Africa just as a journalist, I'm going above all on a political mission, and that's why I think this trip might lead to my death.

This is the first time I've written to you knowing exactly what to say: I love you, I love you, love you, love you. I want you to know that. I want you to know that I love you more than I've ever loved anyone. I want you to know I mean that seriously. I want you to remember me but not grieve for me. If I truly mean something to you, and I know that I do, you will probably suffer when you learn I am dead. But if I really mean something to you, don't suffer, I don't want that. Don't forget me, but go on living. Live your life. Pain will fade with time, even if that's hard to imagine right now. Live in peace, my dearest love; live, love, hate, and keep fighting…

I had a lot of faults, I know, but some good qualities as well, I hope. But you, Eva, you inspired such love in me that I was never able to express it to you…

Straighten up, square your shoulders, hold your head high. Okay? Take care of yourself, Eva. Go have a cup of coffee. It's over. Thank you for the beautiful times we had. You made me very happy. Adieu.

I kiss you goodbye, Eva.

From Stieg, with love.
>>>>>
Unfortunate name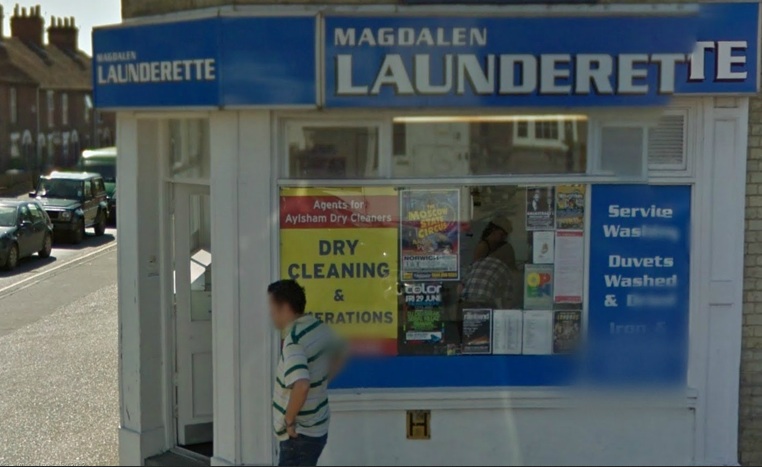 from Google street view in Norwich
>>>>
Letter from New York
Hi, everyone –
Well, we survived the storm here in Brooklyn Heights with minimal disruption. Seems most of us lost cable TV and internet service and had some minor impact on electric lights last night. Lots of trees down as the video in this link will show – our beautiful old neighborhood has trees that are a hundred years old or more and we lost quite a few last night.
http://brooklynheightsblog.com/archives/50486
This morning, people were out and about on our Promenade looking down on the harbor as this post from the Brooklyn Heights blog shows. It has been raining here still today and, while the wind has died down, there's still a brisk breeze.
http://brooklynheightsblog.com/archives/50513#more-50513
The big challenge will be getting to work as the subway tunnels under the East River all flooded. Never before has this happened. Not sure what to do about that…..Can't imagine I'll find too many taxis around here tomorrow morning. And the mayor is not optimistic about when the repairs will be made and the subways functioning again.
The damage elsewhere in the city has been devastating – especially in the Rockaway Beach/Breezy Point section of Queens (a big Irish/Irish-American neighborhood), where a fire started last night and with the high winds quickly spread completely destroying more than 80, possibly as many as 100, homes. For those of you not familiar with that neighborhood, it's a narrow band of land with the Atlantic on one side and JamaicaBay on the other. You fly right over it on a descent into JFK airport.
New Jersey, parts of Long Island—badly damaged. In NJ, Spring Lake, Point Pleasant, Bay Head, Manasquan and other towns along the ocean in that part of the state – all towns surrounded by the ocean on one side and the bay on the other—hit very, very hard. The storm surge pushed the water in at an incredibly high rate and today, if a house is still standing, it is no doubt flooded and covered with sand or has a boat parked in the living room.
The surge was unbelievable here in the city. A huge tanker moored in the harbor washed up on a residential street on Staten Island. And a 35 foot wave was recorded in the harbor (wonder how they measure that?).
The wind last night was unreal. My apartment building, a solid brick building, has been standing for 110 years and you could feel it shaking as 80 mph or higher sustained winds battered it from about 7 pm on through the night.
But we're here to tell the tale and that's what's important.
Thanks to all for your e-mails. It was great to hear from everyone. Amazing isn't it….to be able to connect so quickly around the globe.
Best regards,
Joanne
(From Joanne Dillon in Brooklyn)