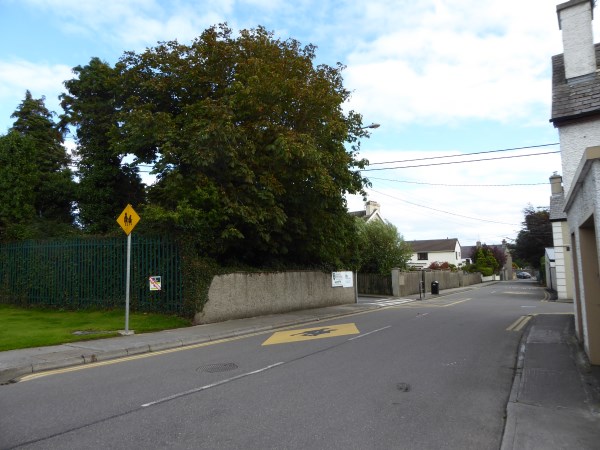 I snapped these ripening conkers on the horse chestnut tree at the entrance to Gaelscoil Lios Tuathail.
<<<<<<<<


Race Week in Listowel, Early Evening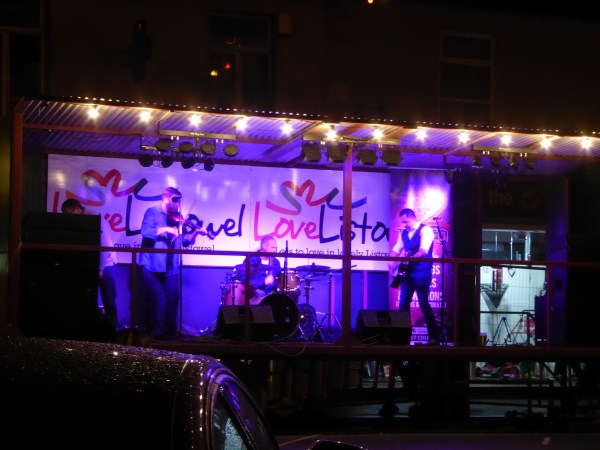 Live Music in Market Street
<<<<<<<


Jerry Hannon, Voice of Irish Racing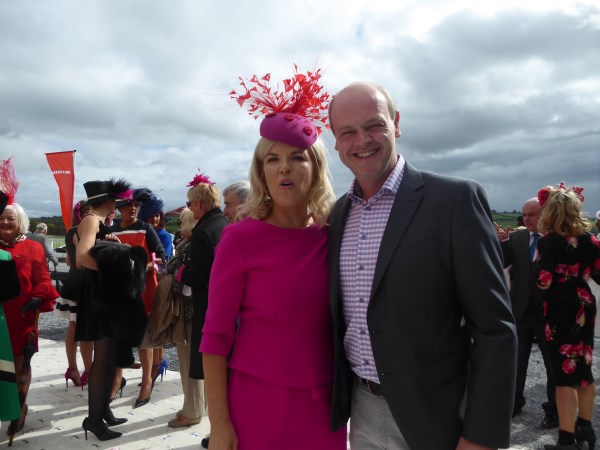 Jerry posed for me with his great friend, Marietta Doran




Here is a article by Colm O'Connor about Jerry from last weeks' Irish Examiner.
Almost 20 years after beginning his career at a pony meeting in Athea, Jerry Hannon became Ireland's primary racecourse commentator in July following the retirement of his 'inspiration', Dessie Scahill.
Q: How did it all start?
A: "The seed was planted in my hometown of Listowel. It seemed that all of North Kerry would grind to a halt for the annual festival every September. People who might never step inside a racecourse from one year to the next would be there.
My first memory of the races down at 'the island' was when I was about seven or eight. I had a black and red BMX that I would park up at the finishing post — but then I would turn my back on the racing itself.
Instead of watching the horses, I would watch Dessie Scahill who was the course's racing commentator. He was my inspiration. I was just in awe of him and what he was doing.
I'm not from a big racing family but my late dad, Joe, would have been into it and I would travel with him to race meetings like Killarney and Galway as a child. The more I went, the more interested I became.
People might remember that Sports Stadium used to have racing highlights back then. I would sit in front of the TV on Saturday afternoons and record the commentary sections on cassette and play them back over and over again. When I got older I had this impression I would do of Micheal Ó Hehir's famous commentary of Foinavon's win in the 1967 Grand National.
The Racing Post had a transcript of what he had said that day and I learned it off by heart. I used to do it for friends and family but I'd be so shy that I would only do it if I was behind a door or under a table. Liz Horgan, who was from Listowel, heard it and was really impressed. Her dad, James, was hugely involved in the pony circuit at the time and she twisted his arm to let me commentate on some races one day.
And so I did on October 17, 1999, in Athea in Limerick. I can remember the day clearly — Chris Hayes, Nina Carbery, Billy Lee, and Davy Condon were all there that afternoon, starting out, just like me.
And look where we all are 19 years later.
Q: But you were more than just a commentator?
A: My dad was very good friends with Liam Healy, the legendary racing photographer from Listowel. I used to go up to his office as a child and soon started to help out, numbering and indexing the pictures. From there I progressed to being his bagman at race meetings throughout my teenage years. Then he gave me a camera — he always said I had a great eye for a photo! Would you believe that I had visited every Irish racetrack by the time I was 17 in my work with Healy Racing. So when I finished secondary school at St Michael's College I went straight to work with him on a full-time basis. He had a huge influence on my career and I'm eternally grateful to him for the support and advice that he gave me. So when I started doing more and more commentaries at the point-to-points, I'd often be double jobbing. I'd call a race and then sprint down to take pictures of the winning connections in the parade ring afterward.
Q: Your progress was remarkably quick?
A: It was. A few months after that pony debut in Athea I started out working at point-to-points which was a very big career step. But the connection with the Healys was perhaps a help as I wasn't a complete unknown around the circuit (in fact my first racecourse access card read Jerry Healy, not Jerry Hannon). I started off doing point to points in Askeaton and Bruff in Limerick and it took off from there.
Q: And then came a slice of luck?
A: I was up in Downpatrick in May 2000 taking pictures for Healys. It was a two-day meeting and on the Friday night we were out for dinner with the Polly Family and it turned out their dad's memorial race — the Willie Polly Memorial Handicap Hurdle — was on the next day. I did one of my commentary party pieces that night and they enjoyed it so much that they asked me to do the commentary on their dad's race the following day. The racecourse manager Iain Duff and the inhouse commentator Neville Ring happily acceded to their request and that is how I got my break into racecourse commentary. Neville stood down from the role a few months later and asked me if I would like to take over. Needless to say I've had a soft spot for Downpatrick ever since.
Q: So you were up and running, if you pardon the pun, but it wasn't an overnight success?
A: It has been a hard slog to get to where I am. I grafted very hard and made a lot of sacrifices. I missed so many family occasions like weddings, communions, birthdays because of racing commitments. I also had to hold down other jobs as well because the number of racing commentaries I was doing simply wasn't enough to keep me going alone. So I had stints working with Cadburys and Paddy Power over the past 19 years.
Q: What's more important — talent or hard work?
A: I'd say hard work first and foremost but you still need a sprinkling of talent as a foundation.
Q: What is the secret to a good commentator?
A: The soundest piece of advice was from Pat Keane (former Irish Examiner racing correspondent). He told me to 'keep it simple and don't add anything that is unnecessary.' And I've worked to that mantra since then. And my Dad used to tell me that I should treat every single race like a Derby or a Grand National. And those are words that I never forget. I'm a bit of a traditionalist, I'm not paid to be a comedian or have these flashy one-liners. My job is to call it like I see it. That is what I aim to do with every race I commentate on.
Q: Has technology made your life easier?
A: Yes, nowadays all the racecards are in colour so it is easier to work out the jockeys and so on. When I started out in point-to-points the cards would be in black and white so I would bring my own pencils to add the colours!
Q: Technology is a double-edged sword. Is your job more difficult in the social media age?
A: Yes. You are very exposed and quite vulnerable to keyboard warriors. It is a bit like being a jockey, you are only as good as your last performance. Nowadays your commentary is more than just at the racecourse. T
his week gone by. I was working at Listowel but that commentary was going out on At the Races, SIS, on Radio Kerry, on phonelines. It means there's no room for complacency if you are doing a midweek meeting or the major weekend race. You have to be thick-skinned in that regard and for the most part I stay away from forums and the like. But thankfully I've never had any issues in terms of trainers, jockeys, or owners.
Q: Your toughest commentary?
A: A 30-runner, five furlough maiden up the Curragh. Which is all done in less than a minute. Now that is a challenge.
Q: Your favourite commentator in any sport?
A: Mícheál Ó Muircheartaigh.
Q: What does this new role mean to you?
A: I've been lucky in life, not everyone's dream becomes reality. I'm 37 and landed the senior racecourse commentary role through nearly 20 years of hard work and hard graft. The Association of Irish Racecourses are my employers and they realised and rewarded me for my loyalty over the years. I have to punch in 220 racing days from July to July around Ireland. I completed the full set the week before last, with my commentary at Laytown meaning that I've commentated at every racecourse in Ireland. It is an honour and a privilege every day and hopefully there are more wonderful days ahead."
<<<<<<<,


Style on Ladies Day 2018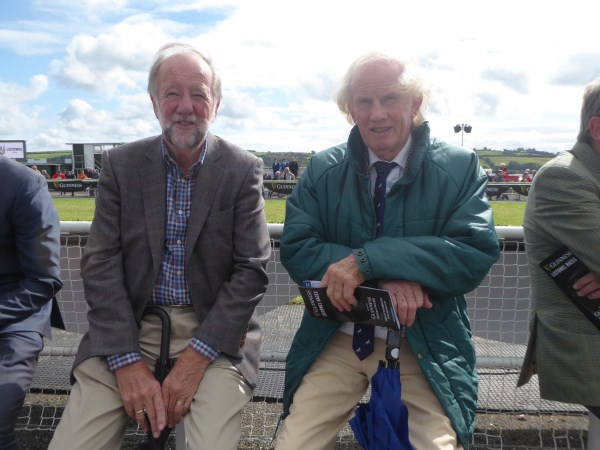 I met Dick Carmody and his friend at the parade ring.
Stylish couple, Sharon and Antony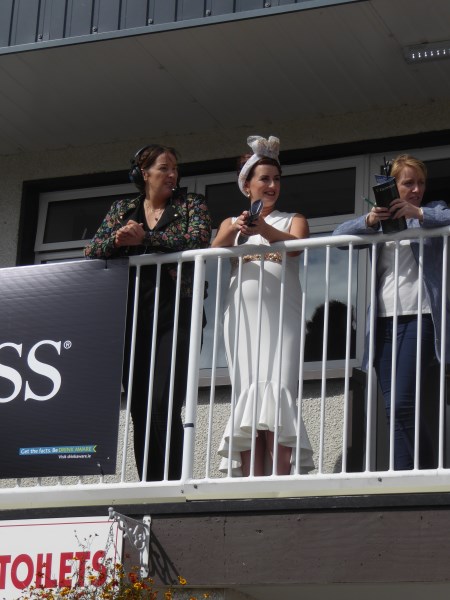 The Tg4 crew were looking resplendent.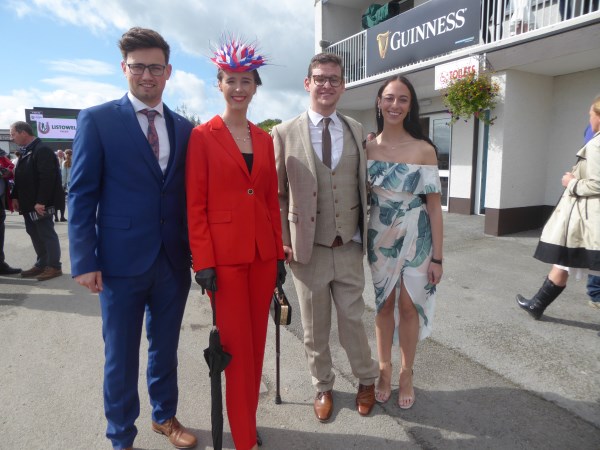 Barbara and Gerard Mulvihill and friends were out in style.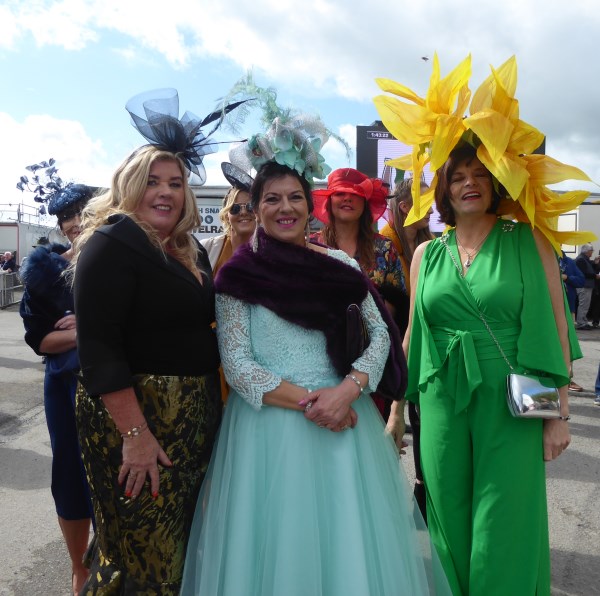 Betty McGrath and her friends are always eye-catching on Ladies Day.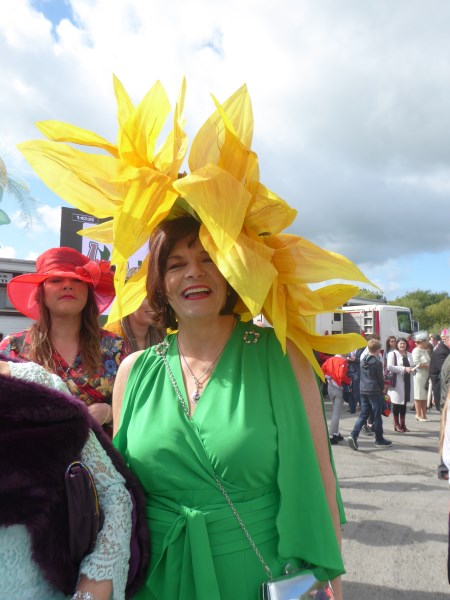 This fabulous sunflower creation did not win the prize for the jazziest hat. It would appear that that prize is decided among the 10 finalists in the best dressed lady competition.
I think, maybe, they should rethink that one.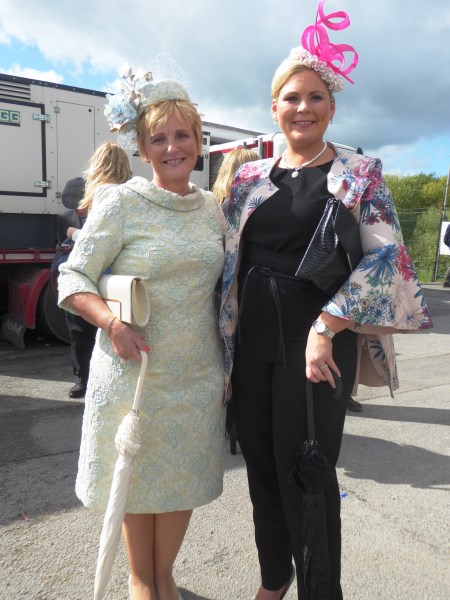 Mother and daughter, Lorraine and Maria were beautiful.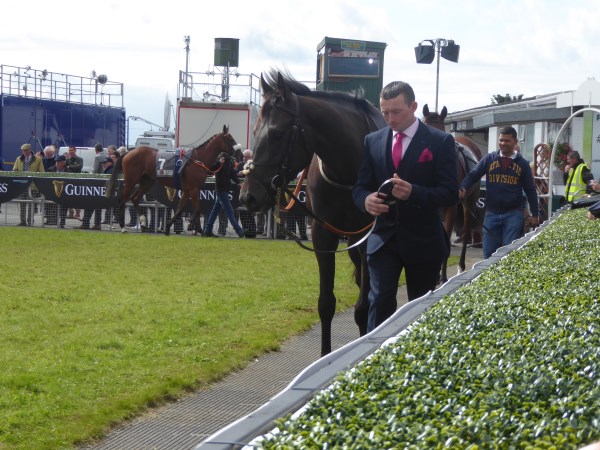 I spotted this really well turned out groom in the parade ring and I wondered if he had been roped in to lead out the horse at short notice. Not at all. The next time I saw this man he was on the stage being presented with a prize for being the best dressed groom. It's great to recognise the hard work of these men and women who work away behind the scenes preparing the horses for racing and hosing them down afterwards. I think next year they might all be throwing on the suit they bought for a wedding.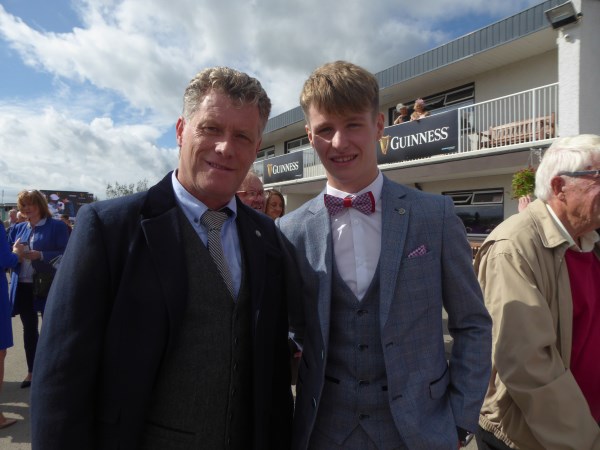 I recognised a famous North Cork musician among the crowd. The last time I saw Liam O'Connor he was moving the mourners to applause amid the tears at the funeral of my great old friend, Peggy Keane of Freemount. What a musician!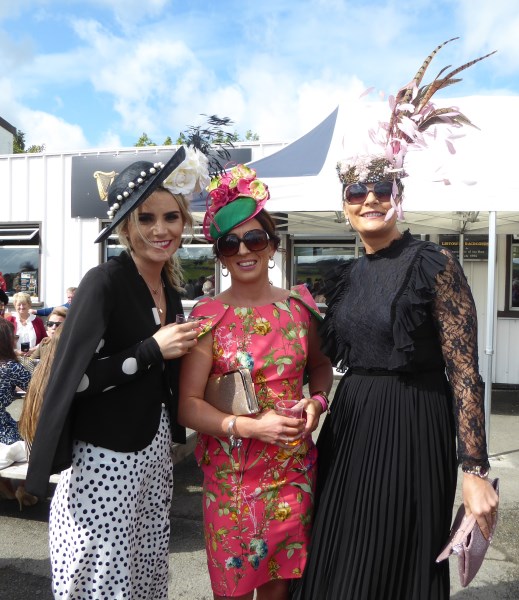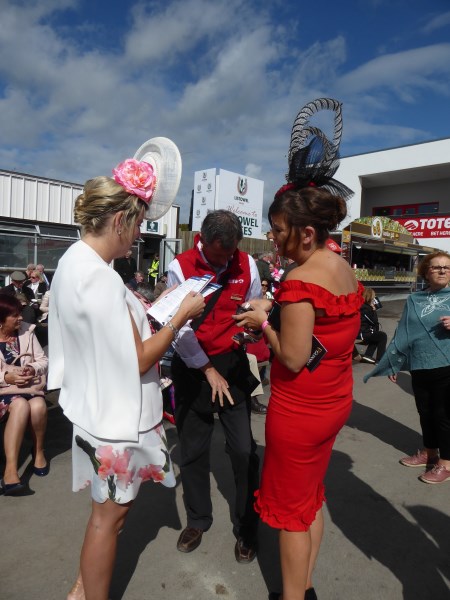 For people who were there as much for the fashion as for racing, there was a roving Tote service to make sure you didn't miss out.
<<<<<<<<
Culture Night
Tonight, Sept 21 2018 is Culture Night and Listowel has great things in store for us . Call in to the Seanchaí after 6 and Listowel Writers' Week will give you a present of a book. That's it…no Ts and Cs, just a book for nothing.
St. John's and the Kerry Writers' Centre have great programmes planned and at 9.00 outside St. John's we are the get a light show, a foretaste of what's in store at the upcoming Féile an tSolais. Great night in store. Don't miss it.
<<<<<<
That Photo
Denis Quille recognised Dan Lou Sweeney in the front and his son, Billy confirmed it.
Billy MacSweeney had a few more names as well;
Looking at the Doodle photograph I recognize my father Dan Lou McSweeney
seated right at the front, Tom O'Connell right behind him. Mick Carey on
Tom's right next to 'Stackianus' with Sean Grogan on the latter's right.
Dermot Tatten is front left. That could be Chuck Roche behind Mick
Carey. That's all I can make out.
<<